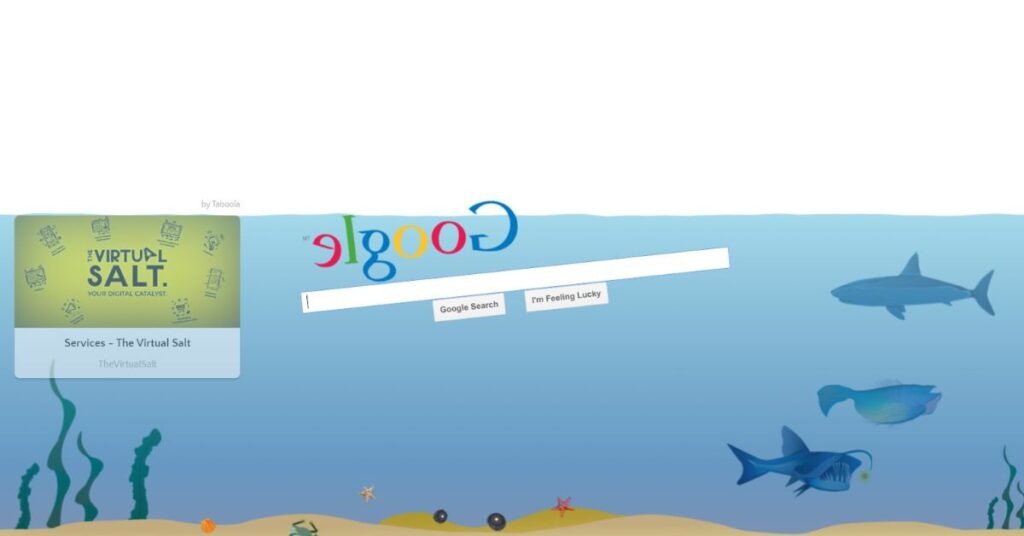 Table of Contents
Users can view the search engine as if it were underwater with the help of the Google Easter egg, Google Underwater Mirror. Instead of being a genuine mirror, it is an interactive feature that mimics the Google search page's appearance as though it were submerged in water. You may just enter "Google Underwater" into Google's search bar and click the first result that displays to access this function, or you can visit this page at www.elgoog.im/underwater/. Once there, the search page with bubbles, animated fish swimming around, and a distorted search bar will be seen. The search results will be displayed as usual once you enter your query in the search bar, but the background will still remain underwater.
Who owns Google Underwater Mirror?
Developers came up with the Easter egg known as "Google Underwater Mirror," which is not a part of Google's core functionality. The purpose of its creation was to amuse people while showcasing the skills of web programming and the humour of its creators. Although Google is the owner of the site and search engine, the exact Easter egg was not developed by Google's official team but rather by developers who were able to trick the search engine into producing this effect. Google doesn't formally own any of the Easter eggs that developers develop or generate utilising the Google search platform. Google merely permits developers to do so.
Past and future of Google Underwater Mirror
In the past, a well-liked feature called the Google Underwater Mirror Easter egg was widely employed to pleasantly surprise and entertain customers with a distinctive and interesting search experience. Google Easter eggs are unofficial features, thus they might not always be available or they might alter over time. It might not even be accessible in the future since it is not an official feature.
Future advancements of Google Underwater Mirror are difficult to foresee because the feature is unofficial and might not always be accessible. Although it's possible that users can still access the Easter egg, it's also possible that other features or Easter eggs will take its place in the future. Due of Google's ongoing service updates and improvements, it is difficult to predict what the corporation has in store for the Google Underwater Mirror Easter egg.
Positive attractions of Google Underwater Mirror
Here are some positive attractions of the Google Underwater Mirror Easter Egg:
(1) It has a visually pleasant interface: The aquatic theme and the fish and bubble animations provide consumers an enjoyable and immersive experience.
(2) It is interactive: The Easter egg enables visitors to enter a search term and view the results as usual, but with an extra level of engagement.
(3) It highlights web development's capabilities: Google Underwater Mirror exemplifies web development's capabilities and the ways in which programmers may use cutting-edge web technologies to design engaging user interfaces.
(4) It's an enjoyable approach to amuse users: It's a fun method to keep users entertained and change up the routine of the regular search process.
(5) It serves as a way to demonstrate the developers' sense of humour: Easter eggs like this one provide developers a chance to show off their sense of humour and inject some fun into the search process.
Google Easter eggs are amusing ways for developers to amuse consumers; they are not intended to be used as a permanent feature.
Negative effects of Google Underwater Mirror
The following list includes a few potential drawbacks of the Google Underwater Mirror Easter egg:
(1) Distraction: The aquatic theme and animations may draw users away from their search, which can make it more challenging to locate the data they're looking for.
(2) Limited usability: The Easter egg could not be usable by all users, especially those who have visual or cognitive disabilities.
(3) Less effective search: The animations and the crooked search bar can make it harder for some people to locate the information they're seeking for fast.
(4) It's not an official feature: Because it's not an official feature, it might not always be available or might change over time, which can be annoying for users who have gotten accustomed to it.
(5) It might raise security issues: If the user accesses this Easter egg from a shared computer, their search history and private data may be at danger.
Developers produce Google Easter eggs as a lighthearted means of amusing consumers; they don't have any adverse consequences. It's crucial to understand, though, that not all people will have access to them, and not every user or circumstance will find them useful.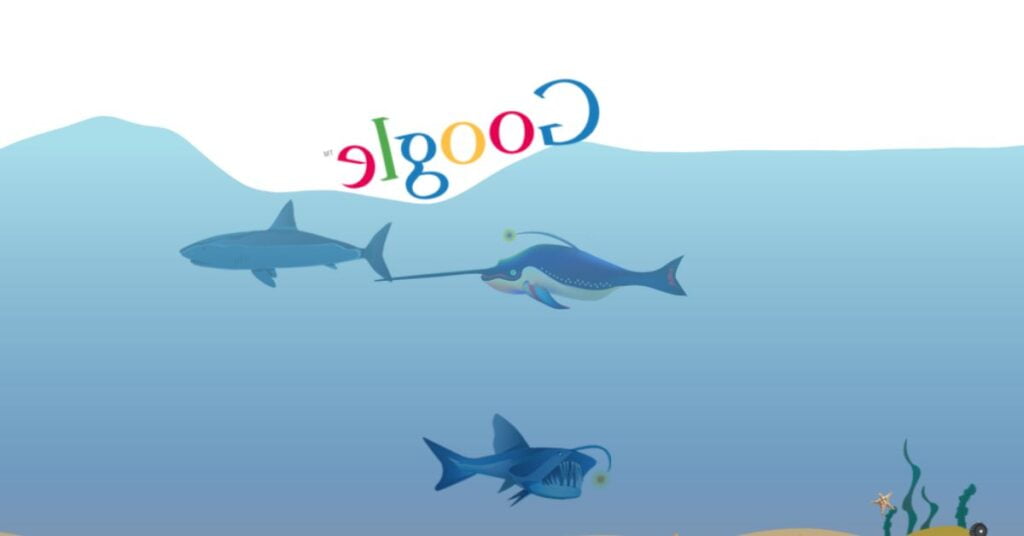 Why Google Underwater Mirror is used?
You can access the service by typing "Google Underwater Mirror" into the search field. Its main objective is to amuse users. The purpose of online design Easter eggs, such as the Google Underwater Mirror, Google Gravity, and other similar gimmicks, is to surprise and amuse viewers while simultaneously showing the power of the internet. They are not intended to be a permanent feature, but rather a means for developers to demonstrate their ingenuity and emphasise the enjoyment that technology can provide.
Google Underwater Gravity
By using Google Underwater Gravity, a hidden feature, users can view the Google search page as if it were underwater and subject to gravity. The gravity effect will make it appear as though an underwater force is pulling the search page lower. This Easter egg incorporates a gravity effect and is comparable to the Google Underwater Mirror.
You can use this function by typing "Google Underwater Gravity" into the Google search box and then clicking the first result that pops up. The search page will be adorned when you first arrive at the website with bubbles, a swimming fish that is in motion, and a warped search bar that this time seems to be being pulled downward. Even though the background is underwater and has a gravity effect, you can enter your inquiry in the search field and the results will be shown as usual.
Does Google gravity go underwater?
Comparing Google Underwater Gravity to Google Gravity is like comparing apples to oranges. A gimmick called "Google Gravity" makes it appear as though every component on the Google search results page is falling toward the bottom, as if by the force of gravity. Although you may spot fish and bubbles in the Google Underwater Mirror Easter egg, there is no gravity impact. It simulates an underwater search.
How do I activate Google Underwater?
The following steps can be taken in any web browser to trigger the Google Underwater Easter egg:
(1) Type "google.com" into the address bar of your browser to navigate to the Google search page on a computer.
(2) Type "Google Underwater" into the search field.
(3) Select the first recommendation or visit www.elgoog.im/underwater/.
(4) When you arrive at the page, a distorted search bar, animated fish swimming about, and bubbles may be seen on the search page.
(5) The background will remain underwater when you enter a search term, and the results will appear as usual.
Please be aware that the Google Underwater Easter Egg is only a fun method to mimic an underwater search and is not actually a feature.
How to mirror phone google home?
The Google Home app and a Chromecast are required to mirror the screen of your phone on a Google Home device. The following actions are required to set up screen mirroring:
(1) Confirm that your phone and Google Home device are both logged into the same Wi-Fi network.
(2) Launch the Google Home programme on your phone.
(3) After choosing the gadget you want to cast your screen to, choose the settings icon (gear icon).
(4) After selecting "Mirror device," pick your phone.
(5) A notification on your phone will ask for permission to mirror your screen. Select "Start now" to initiate mirroring.
(6) The display of your phone should now be mirrored on your Google Home device.
Please be aware that not all devices might support screen mirroring, and that the device and network connection may affect the mirror's quality.
The settings menu may alter slightly because Nest Hub is the new name for Google Home devices, but the overall procedure is the same.
Read More Articles:-